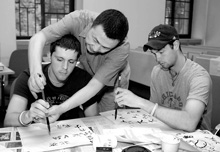 Mandarin, also known as Modern Standard Chinese, is the main language spoken in China and among the most widely spoken languages in the world. There are many reasons people want to learn Mandarin, whether it's for business trips, for cultural reasons or simply to be able to communicate with and understand the people of one of the world's oldest and largest civilizations. But while there are many reasons to want to learn Mandarin in China, there is only one way that delivers quick results, strong cultural learning, and the joy of discovery—and that's with a complete cultural and language immersion program in China itself.
It's a New Year, and you may have made a pledge to start learning Mandarin. For many people, this is something that they want to do before taking a trip to China. But what about making the language learning part of the trip? Learning Mandarin in China involves a lot more than language classes and conversation practice – it is a complete cultural experience.
Here are some of the benefits of a complete language immersion in China:
.Learn about Chinese culture and philosophy – Your Mandarin immersion trip will also give you access to cultural learning sessions in which you'll become familiar with ancient traditions like Taoism, Confucianism, and Chinese Buddhism—from the perspective of native Chinese people. Chinese philosophy is woven throughout everyday Chinese culture and you will get to experience it firsthand.
.Put your language skills to use every day – Unlike learning in a class back home or with an online program, in an immersion program you get to use your Chinese every day. You will be amazed at how quickly your language skills improve.
.Complete lodging and amazing meals as part of your immersion – The immersion is a complete experience in which you get to stay in a private room, but interact daily with the other students, with bilingual instructors and delicious locally-prepared meals.
.The chance to learn Kung Fu – That's right—learning real Kung Fu is an option as part of your immersion program, including Shaolin style, Bagua and Tai Chi Chuan.
.The best language teaching methods available! – Immersion programs make use of comprehensive language teaching methods that are not available in a setting where the people around you don't know the language. There is no faster way to master your Mandarin than living in China while you learn it.
Are you interested in learning Mandarin? What sparked your interest in the language? Check out our site and the many learning opportunities and cultural experiences we offer at Tai Mountain Shaolin Kung Fu School. If you're excited about travel, philosophy, linguistics, and mastering fighting styles, then our program is the opportunity of a lifetime!